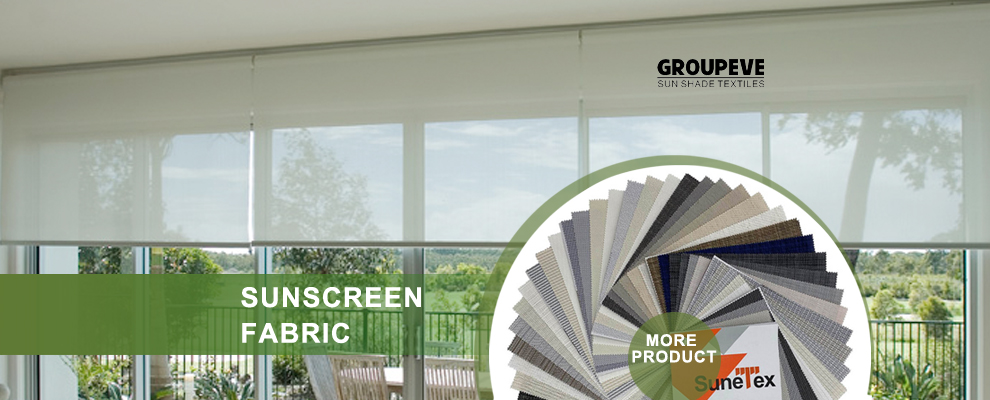 SuneTex®
Sunscreen Fabric
is made of Polyester yarn and PVC, which is widely used in blocking out the harmful elements of strong shining sunlight and ultraviolet ray, and performs perfect in the sun-shading field. It is a versatile solution for all who want to enjoy the outdoors without risking too much sun and heat exposure. The innovative, breathable fabric will allow heat to escape while cooling the area, reducing temperatures up to 15 degrees.
SuneTex® Sunscreen Fabric is widely used for indoor sunshade roller shutter, vertical Blinds, all kinds of ceiling blinds, Roman shades, Decoration and partition.
Concerning different types of windows, the most effective way is to reduce interior heat and glare, sunscreen roller blinds fabric from groupeve protect interior furnishings, also make the view comfortable, at the same time, which caters for the interior design with individuation and elegance. Enhance privacy as you wish. Ideal for patios, play areas and pet enclosures.
Certification
NFPA, bci, Intertek Eco-Certification, GOTS, OEKO-TEX STANDARD 100, 
Weight
  405g±5%
Color
  Customized
Composition
29%Polyester, 71%PVC

Standard Width;200cm, 250cm, 300cm

Openness
  5%
Standard Length
  30m±5%
Anti-Ultraviolet
  About 95%
Brand Name
  sunetex
      In today's world, homeowners are constantly searching for ways to improve their home's energy efficiency and aesthetic appeal. GROUPEVE  Sunscreen fabric and 3% openness roller blinds fabric for windows are two products that can help achieve both of these goals.

ncreased Energy Efficiency
Reduced Glare and Heat
Enhanced Privacy
Aesthetic Appeal

How to Incorporate Sunscreen Fabric and 5% Openness Roller Blinds Fabric into Your Home's Design?

Choosing the Right Color and Texture
Measuring Your Windows
Installing Your Fabric
Cleaning and Maintenance Tips
Recent Hot Topics in Home Design: How Sunscreen Fabric and 3% Openness Roller Blinds Fabric Fit In

Benefits of Sunscreen Fabric:

Blocks up to 95% of UV rays
Reduces heat and glare
Enhances privacy without sacrificing natural light
Saves on energy costs by reducing the need for air conditioning

 

Strict quality control to ensure that the fabric utilization rate is greater than 95%. Factory direct selling price, no distributor earns the price difference. With 20 years experience for sunshade products, Groupeve has professionally served 82 countries clients worldwide. With 10 years quality warranty to ensure continuous cooperation. Free samples with more than 650 kinds of fabrics to meet regional market needs. No MOQ for most of items, fast delivery for customized items.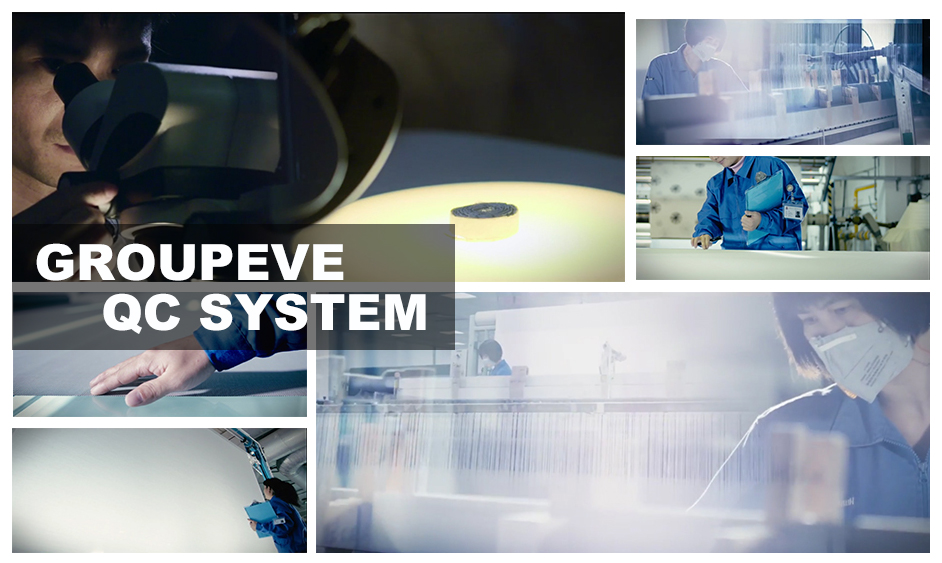 Fine design: suitable cycle, beautiful color Comfortable touch: unique yarn and technology makes the fabric having the soft touch. Eco-friendly: passed the test of EPA, protecting your health well. Light filtering: popular double-slices structure effectively adjusts the indoor light, protecting privacy well. No warping, no light leakage Precision weaving with high-precision yarn; ultra-thin and soft, high definition, more high-grade, more durable. With many years of production experience, Groupeve can effectively avoid weft arc and skew. The fabric utilization rate reaches 95%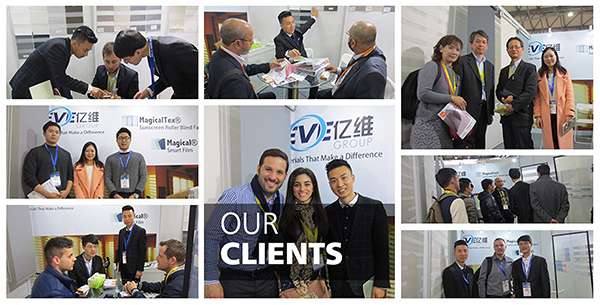 For certifications and test reports, we have details as below:
CE
SGS
ROHS
GOTS
COLOR FASTNESS TEST
OEKO-TEX STANDARD 100
SHADING COEFFICIENT TEST
CERTIFICATE OF CONFORMITY
INTERTEK ECO-CERTIFICATION
FIRE RETARDANT NFPA701(USA)
GREEN GUARD GOLD CERTIFICATE
ANTI-MILDEW ANTIVACTERIAL TEST, ECT.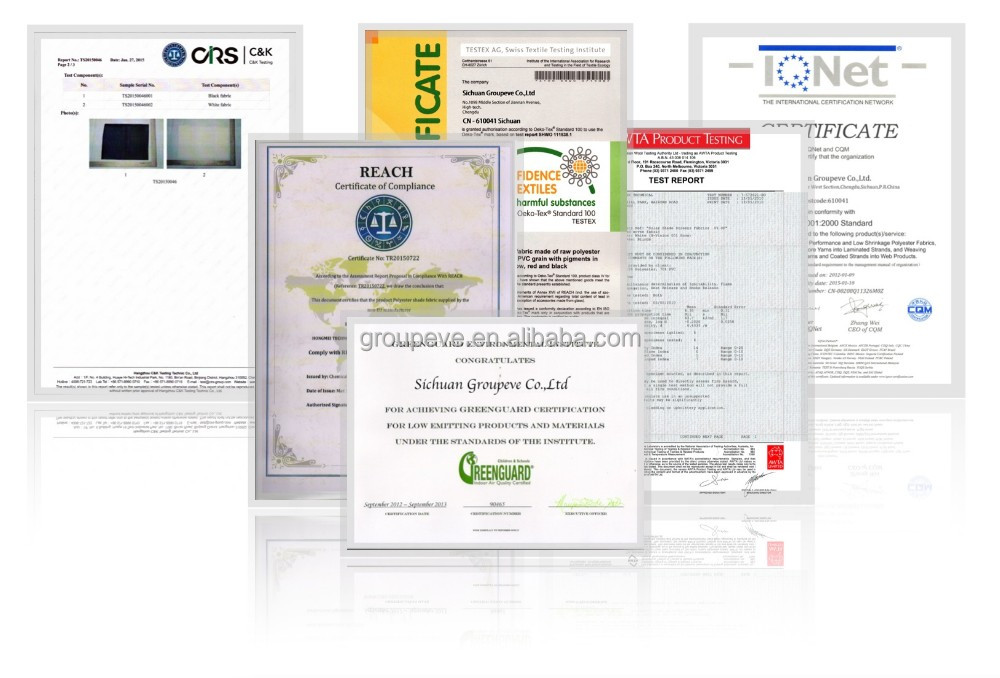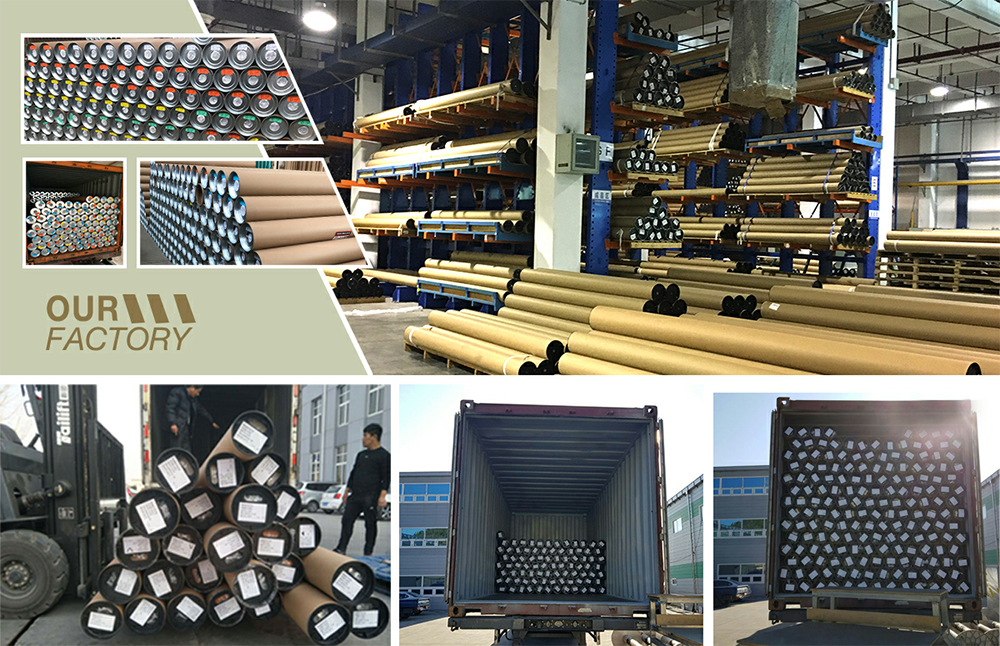 1. Well Organized window curtains blind manufacturers solar shades and roller blinds shades
2. In Polybags inside packing
3. Outside in Paper Tube Packing.
4. Every tube has an unique bar code which can be tracked in the whole producing, shipping & delivery process.
5. Packing size:
* For fabric with 2m width: 2.15mx0.2mx0.2m; Measurements:0.086CBM
* For fabric with 2.5m width: 2.65mx0.2mx0.2m; Measurements:0.106CBM
* For fabric with 3m width: 3.15mx0.2mx0.2m; Measurements:0.126CBM
* For fabric with 3.2m width: 3.35mx0.2mx0.2m; Measurements:0.134CBM
GROUPEVE Chengdu branch was funded in 2010,only focusing on manufacturing high-quality sunscreen fabrics. Materials that make a difference is our soul of Groupeve. From 2001 R&D department started to do the research of sunscreen fabric, after 15 years' consistent improvement, our products were approval step by step, now are very widely used for different applications.
Our goal is clear:
Where there is sunshine, there is Groupeve!
Make your home today the home of tomorrow with MagicalTex® sunscreen fabrics & Sunetex® roller fabrics.
If you interest, please feel free to contact
ERIC ZHANG
Whatsapp: +86 16605637774
Email: eric@groupeve.com